At Rowley, the customer is always our first priority. And we're dedicated to making it as simple for you, our international customer, to get quality products as it is for our domestic customers.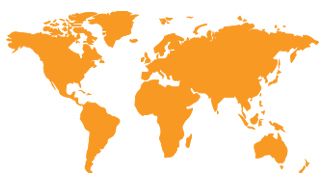 Our multilingual, in-house staff serves customers in over 70 countries, and takes pride in providing outstanding support to every person, every day. That's why you can count on our experts to check every detail - from freight companies and forwarders, to brokers and customs. Whether it's a simple package, a full pallet, or a whole container, we want every order to arrive on time and without incident.
NOTE TO OUR INTERNATIONAL CUSTOMERS:  Orders placed through the website can only be shipped to addresses in the US and Canada. If you require international shipping, please place your order by calling our Customer Experience Team. Thank you. 
Canada
Our 800 number can be used from all provinces.
Steri-Fab, aerosol cans & Concentrated Crease-A-Way cannot be shipped into any province, Regular Strength Crease- A-Way can.
Balances on open account invoices are stated in US Funds and are payable in US Funds only.
We accept American Express, MasterCard, Visa or Discover.
Mexico
Llamenos desde Mexico al Tel# 001-704-866-0650 o envies u Fax en Espanol o en Ingles al #001-704-868-9787 o email International@RowleyCompany.com.
No ofrecemos aerosoles ni Crease-A-Way en el Mercado Mexicano.
Sistema de pago incluye Tarjeta de Credito, Cheque Bancario en $US, y Giro o Cable Bancario.
Enviamos su pedido atravez del servico postal.
Chinese

International customers can obtain more information on international services, including our convenient payment options such as credit cards, wire transfers and bank checks, via e-mail International@RowleyCompany.com or call us today at 001-704-866-0650.